About the clinic
Dental Clinic JK Dent started working in 2016 in new, spacious rooms with modern design and high quality equipment.
The clinic is created on the base of Dr. Janis Kukulis' Dental Practice that has been successfully operating since 2000. More than 15 years of experience in private practice created a necessity to offer customers a wider range of services in more spacious premises. As a result, we are here – Agenskalna Street 4-1.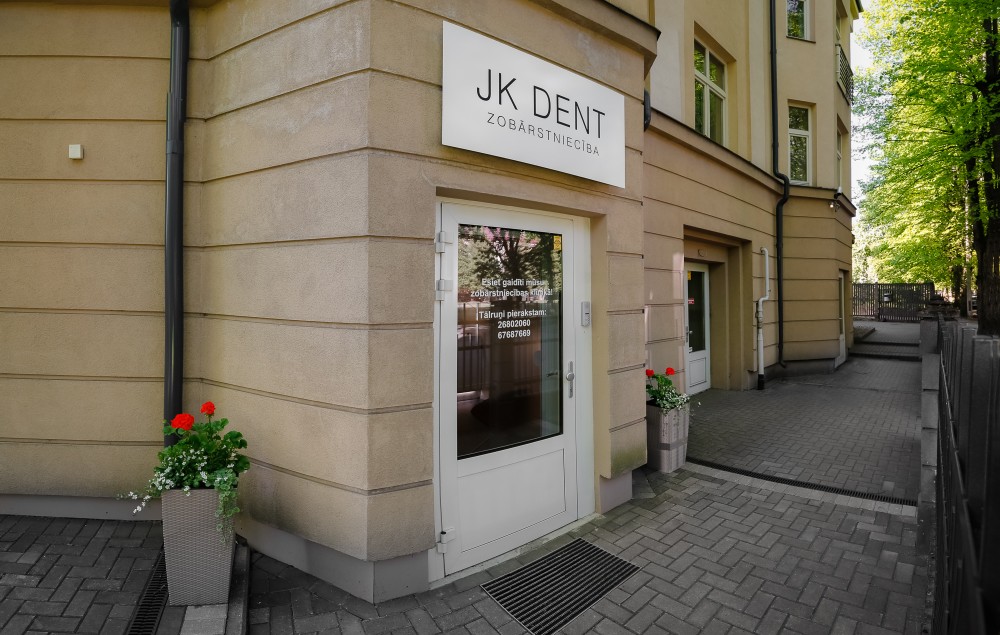 Location
The clinic is located at Slokas street, opposite to the Martin's Church. Thanks to our convenient location, we are easily accessible both by public transport and car, as well as both from all Pardaugava – Agenskalns, Imanta, Zolitude, Ilguciems, and from the center of Riga. It is possible to park your car just at the clinic for free. If you arrive by bicycle there will be also an option to park securely your bicycle in our premises.
Interior
JK Dent clinic has six consulting rooms for our patients with new elite class Stern Weber dental equipment.
All six cabinets are equipped with MyRay devices of the x-ray examination; they are equipped with visograph. This allows improving the image quality by computer, performing measurements and reducing radiation received by a patient for about 40%. X-ray is done just in the dental chair within some seconds. In order to better explain the condition of a patient's oral health, we use HD intraoral cameras.
We have provided the environment accessibility for people with reduced mobility.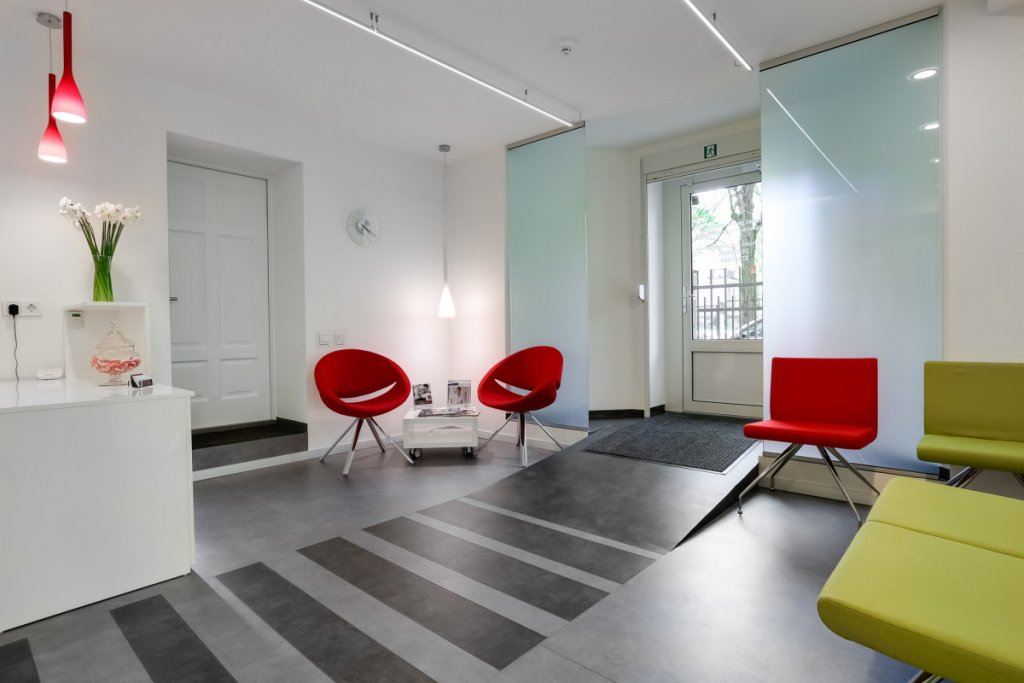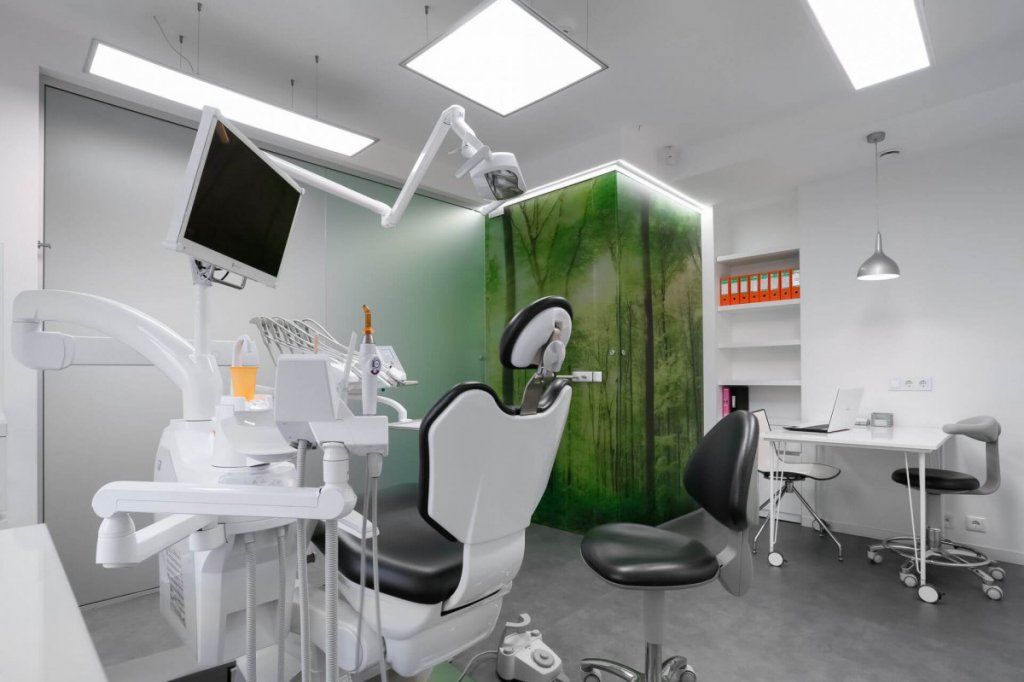 3-dimensional conic beam computed tomograph
A 3-dimensional conic beam computed tomograph is installed in the clinic. By it 2D orthopantomogram, as well as 3-dimensional examinations of the face and jaws can be obtained which are indispensable for complicated dental extractions, endodontics and implantation.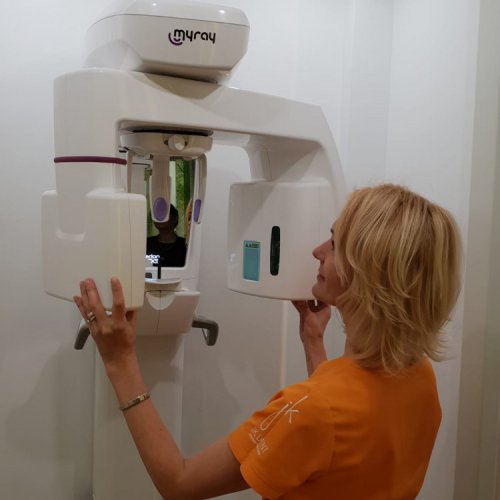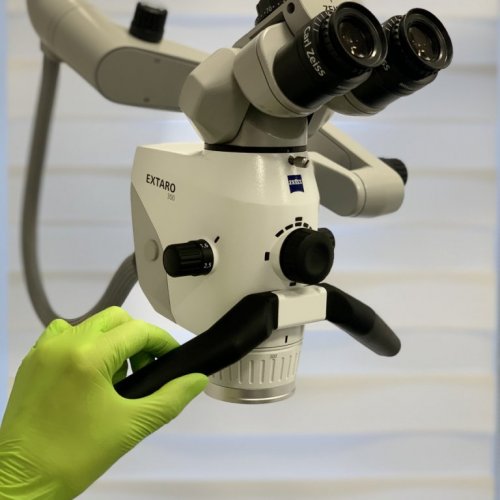 Dental microscope
A microscope in dentistry provides dental treatment with the highest precision at high magnification. Particularly needed in the treatment and cure of complex, difficult to find dental canals when the previous treatment has failed. As well as for removing instruments broken into root canals, diagnosing cracks etc. The microscope is also used in surgery, prosthetics and implantology.
In JK Dent Clinic, the treatment with microscope is done by Dr. Anda Mindere-Gūbele and Dr. Anna Mihailova.
Infection control
Infection control is ensured at the highest level.
All tools undergo a full sterilization cycle – from chemical treatment to complete sterilization of the Stern Weber autoclave in a special pack. Only disposable personal protective equipment is used.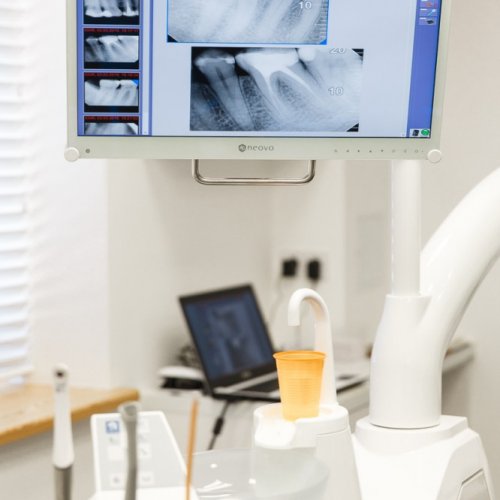 In our clinic works qualified and certified dentists, endodontist, periodontologist, high-level specialists in implantology and maxillary facial surgery, dental assistants and dental hygienists.
Check out all our specialists here.